In todays housing market, most Realtors will tell you whatever you need to hear to sign a listing contract and then provide the bare minimum of marketing strategies to get your house sold. I have seen countless MLS listings with pictures that are uploaded upside down, pictures that inaccurately represent the property, and overall just plain poor quality pictures.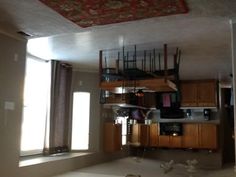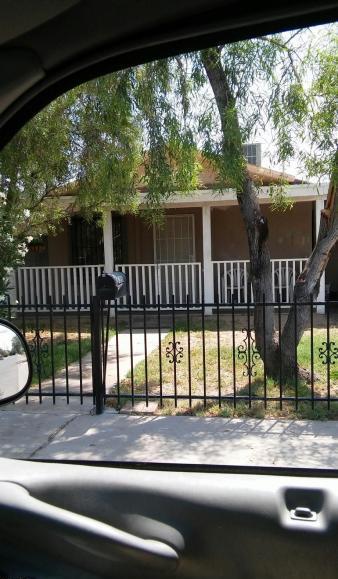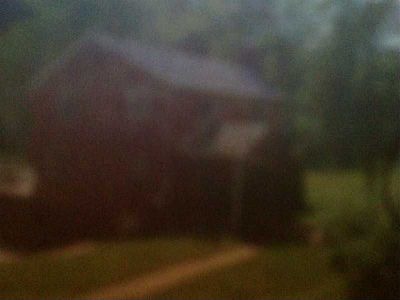 In my opinion, every MLS listing should have the highest quality, professional pictures along with a virtual tour; and in some cases a drone video showcasing the property for sale. In this blog I will cover the 12 strategies I use to sell homes faster and with for the most money. For those of you considering listing your home For Sale By Owner (FSBO), I want to point out that Realtors, on average, are able to get 25% more money for sellers. In fact, the founder of ForSaleByOwner.com, could not sell his house for sale by owner. He used a Realtor, who was able to sell his house for $150,000 over the original price. If you don't believe me read the full article here. If you are wondering how a Realtor got Colby Sambrotto $150,000 more for his home than he could have selling it himself, I will tell you.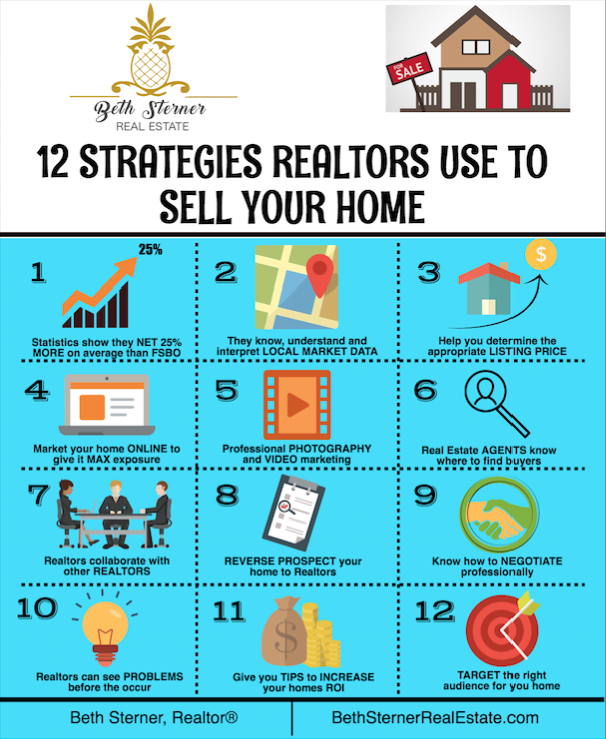 Top Producing Realtors spend countless hours learning, adapting and selling their clients homes every day. They work hard to be the best at what they do. I know I work hard 40+ hours each week trying to get the most money for my client's homes and finding the next property for them to call home. If Realtors spend so much time, money and effort on helping their clients sell or buy a home, what exactly are they doing? Since this blog is specifically about selling your home, I will focus the remainder on exactly that.
Realtors Net 25% More Than For Sale By Owner on Average.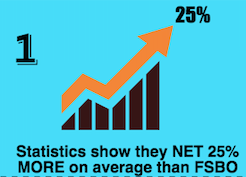 The most important point statistic previously stated is the average sale price of a house sold by a Realtor is 25% more than an individual selling for sale by owner. Furthermore, statistically about 89% of FBSO eventually fail and 88% of buyers use a Realtor, who knows other Realtors. The most common reason someone decides to sell their home independently is to save the money from commission. I can definitely relate and understand this mentality. The owner may save on commission, but it is possible to lose money on the total equity gained from the sale of your home. When selling a luxury home, the additional 25% in sale price could mean $150,000. The buyer of a luxury home would be happy to purchase your home at 25% less than what a Realtor could get for you. Wouldn't you? Well the founder of ForSaleByOwner.com, Colby Sambrotto, was not wiling to sell his home for a discount of $150,000 and he is a very smart man. The National Association of Realtors reports, "FSBOs accounted for 8% of home sales in 2014. The typical FSBO home sold for $210,000 compared to $249,000 for agent-assisted home sales." This reiterates the nearly 25% increase sellers home return.
Realtors Are Able to Interpret Local Real Estate Trends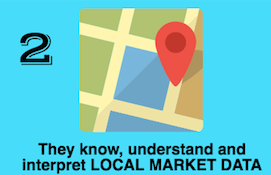 A big mistake I see a lot when working with sellers is they want to price their home way about the fair market value. This is the quickest way to devaluing your home. A Realtor with help you in determining the best list price for your home to get you the most money while at the same time causing the home to sell. Realtors are able to do this because they know the neighborhood, what has sold and what has not. Every Realtor should spend time each month researching the local market trends, pricing trends and housing inventory. Every Realtor should have knowledge of the local market trends. Your Realtors knowledge of market trends is part of what it takes to put a sold sign in front of your house. They will study the numbers and inform you of their findings. If the numbers are not what you expected, you need to understand agents can only tell you what the price range of your house is according the what has recently sold near your home.
Realtors Help You Determine the Appropriate List Price of Your Home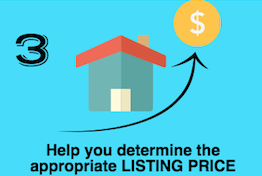 The worst idea when you are trying to find out what your home is worth is going to websites like Zillow. The "Zestimates" are some of the worst home estimates I have seen. I regularly see incorrect home values on Zillow, as much as 200% incorrect! This could be the difference between a true home value of $85,000 based on comparative market analysis, done by a professional real estate agent specializing in that specific market, and Zillow estimating over $180,000 value. A Real Estate Agent will discuss your needs for selling your home. Each person has a different situation, whether that is the need to sell fast or want the most money possible. The listing price of your house will be impacted by your unique situation, especially if time is a factor. A Realtor will analyze the local real estate market in your price range along with understanding your situation and give you the best listing price of your property. This will prevent underpricing or overpricing your home because the local market data is used to determine the list price.
Realtors Know the Best Online Marketing Tactics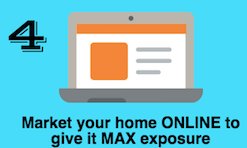 Online marketing tactics are one of the most important things a Realtor will do for you when selling your home. Your house will sell faster if it can easily be found online and by a specific audience. Social Media: It is important for Realtors to social networks to market the homes they have listed for sale. Facebook is one of the best places for a Realtor to promote your home once it is listed. It allows them to target a very specific audience of people in a certain area so they know you house is currently for sale. These target ads will likely reach individuals who are, or who know someone looking for a new home in your neighborhood or price range. An ad campaign for your home would look something like this: "This beautiful home, in The Point, just came available. Tag someone you would want as your neighbor!" As people start to share the ad and the target audience is reached, your home has the potential to reach hundreds of thousands of people on Facebook. Listing Description: An important part of listing a home and marketing it online is to have a well written listing description. When a person reads it you want it to spark emotion and create a sense of attachment in the buyers searching for homes like yours. A good listing description will provide the reader with the unique features of the home that will appeal to buyers.
The Best Realtors use Photography and Video in Their Marketing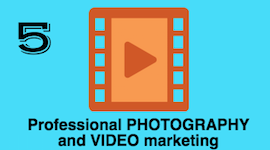 If you do not have a professional looking product to captivate buyers the best marketing tactics mean nothing. The top Realtors will use professional, high resolution pictures and videos. New statistics report that 85% of buyers start their search online and 95% of buyers will find their home online before deciding to see it in person. The quality of the listing content will either entice buyers to schedule a showing with their Realtor or cause them to click on the next home in their price range.
You Need One Thing to Sell Your Home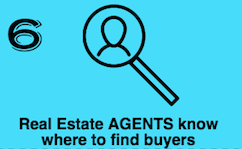 At the end of the day you need a buyer in order to sell your home. The buyers, who are serious, are checking the local real estate market on a daily basis. They are also talking to their buyer's agent constantly about new homes that are on the market. A Top Realtor will make sure your home or property gets to the buyer's agent who then reports the buyer.
Realtors Communicate with other Realtors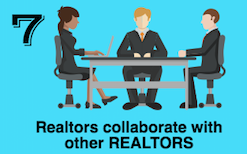 When a Realtor lists a home for sale, they will often share with brokers in their real estate office. One of the first things I do is send out a email to all of the Real Estate Agents in my office and in the area where the home is located. I share the listing and ask them if they have any buyers who might be interested. I am usually aware of which local Realtors in Mooresville, North Carolina and surrounding Lake Norman area who have potential buyers. Despite this I will always use every possible method to inform other Realtors of the new home that just came on the market. Every time I list a property on MLS I use what is called Reverse Prospect to immediately share the listing with buyer's agents who have their clients on specific searches that include your homes criteria.
Using MLS to Reverse Prospect Other Realtors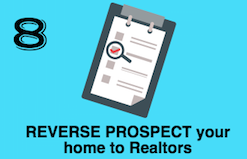 The Reverse Prospect in the MLS system allows selling agents to inform buyers agents with clients looking for a specific property that meets the criteria of your home. It is one of the most effective ways to market any property to a targeted audience. When I send an email to other agents that they have a client that is looking for a property meeting the criteria of my listing, they are always very receptive. They get excited because they find out about the property first, before the clients are able to discover it. The next important thing a Realtor can do for you is to prevent the loss of a potential buyer. This can often occur during the negotiations if you do not have a Realtor on your side.
Top Realtors Know How to Negotiate Professionally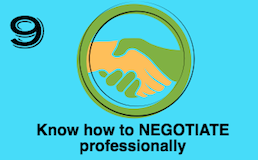 When a buyer finds a house they want, they often buy with emotion. If you are selling your home For Sale By Owner and the buyer has a Realtor, you can easily introduce stress into the situation and ultimately lose the buyer. When you have a listing agent they can change the tone of the situation significantly when speaking to the buyer's agent. Often times when people are selling their home they feel they need to come out on top in the final deal. The negotiation of the purchase needs to be a win-win for both the seller and the buyer while making sure everything is professional and courteous. Top Realtos are about to create a win-win for everyone while getting the most money for you as the seller. The best strategy for a Realtor is to approach the buyer's agent with the question, "the sellers are only willing to sell to someone who truly wants the house, can you help them appreciate why they should sell to your client?" In this scenario, the buyers are now trying to persuade the sellers into why they are the best people to buy the home. When you list your house at a specific price, buyers expect to pay that price or something very close to it. Realtors confident in their list price will not allow for as much wiggle room as a real estate agent who does not know the particular neighborhood statistics. I keep sellers up-to-date on Mooresville and Lake Norman real estate information and market statistics.
Realtors Know When There is a Potential Problem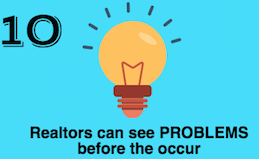 Imagine this, it is the day or two before the closing of your home and the buyers give you a list of problems they want to have fixed or they price needs to be reduced or they will back out. Because of the possibility of this future problem, I set the expectation that the seller does not plan on making any repairs before the contract is signed to purchase the home. The inspection will never come back without issues and if it does you have the wrong inspector. Every house is going to have problems. Before having the sellers sign the contract to purchase it might be a good idea to inform the buyers whether or not you will further negotiate the repairs with them.
Top Realtors Will Give You Strategies to get the Highest ROI.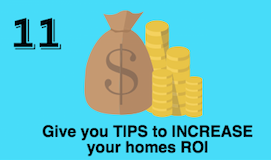 Realtors can give you tips on how to increase the return on investment (ROI) for your home. An example would be adding a half bath to your home, which would cost a few thousand dollars but could increase your home value by $10,000 or more. Many of the ideas Realtors provide their clients with are fairly inexpensive. Some may include replacing old brass fixtures to updated nickel fixtures because in todays market it will increase your home value. The buyers of today are far more interested in areas of the home including the living space, kitchen and bathroom. The master bedroom can be a highlight of the home if staged appropriately and help sell your home. A Real Estate Agent can help you with the steps you need to take prior to listing your home to sell faster and for more money than it would have.
Target a Specific Audience for Your Home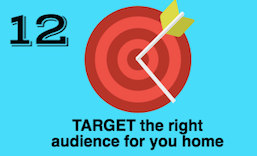 The Best Realtor will know who the buyers will be for your home before starting to market it. If your home is in poor condition and an ideal fit for someone looking for an investment property, you wouldn't want to target someone looking for luxury homes. Different types of people are looking for specific homes in a price range with a certain style. The founder of ForSaleByOwner.com used a Realtor who targeted the right audience, at the right time. His home sold for $150,000 more than it was first listed for.
Conclusion on Selling Your Home with a Realtor
Do you think the founder of ForSaleByOwner.com will call a Realtor the next time he wants to sell his home? Realtors can offer countless benefits to get your home sold in less time and for more money. I could write forever on this topic but chose to offer you 12 of the top strategies I use to sell homes. The first and most important strategy is determining the list from for your home. There is no FSBO that could compete with the benefits of using a Realtor. Whether it is marketing the home to the right audience or reverse prospecting buyer's agents, a Realtor can net you 25% more for your home. In todays market, almost all buyers are looking for their next home online and about 90% of them are using a Realtor to help.
Beth Sterner is a Real Estate Agent and Realtor in Mooresville, North Carolina. Beth practices real estate in Mooresville, Troutman, Davidson, Cornelius, Huntersville, Denver, Sherrills Ford, Charlotte and the surrounding areas.
Beth Sterner can help you with all of your Real Estate Needs!
Give me a call! 980-228-1051